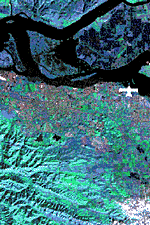 The geographic scope of the ecological influence of the San Joaquin River environs can be glimpsed in the satellite view of the San Joaquin River Delta and the related estuary leading to San Francisco Bay. However, the San Joaquin River no longer runs through Central California's West Side. A large portion of that water supply needed by farmers in the San Joaquin Valley has been diverted to the City of Los Angeles.
Inefficient water inflow to the San Joaquin River Delta, over time, has degraded river drainage all the way to Stockton. West Side farmers are now required to obtain surface water from an entirely different source, the California Aqueduct, a Sacramento River delta diversion.
Another side-effect of diverting the river to municipal customers is that there are too few tidal marshes remaining for fish and wildlife resources dependent upon them for survival, after the riverbed went dry.
So, today the Clovis rancher has to be creative and resourceful in working around natural and human processes which directly affect his productivity and staying power.
One source of overcoming formidable challenges to the future of farming is the information revolution. With the use of a personal computer and the Internet, every farmer can instantly access world market prices, and chat with buyers and sellers across the international borders of the world.
Today's ranching is the science of tomorrow's world. Even if our San Joaquin River doesn't run through it anymore!