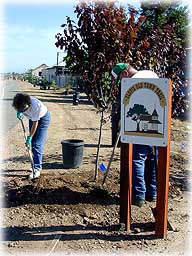 CLOVIS -- On Saturday morning at 5 AM sharp Tree Fresno volunteers accomplish ed one of the greatest public services in the history of the nation. It planted a forest.
     The early morning activity is credited for planting the largest urban forest in the Nation's history. Joseph Lemon, Captain of tree planting volunteers told reporters, it was accomplished by 3,000 highly motivated volunteers who planted more than 5,000 large redwood, pine, and broad leaf trees between Dakota and Alluvial in Clovis and along Copper ave. from Minnewawa to Fresno St. along the Cross-Town Trail.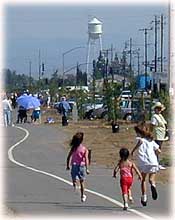 The Boy Scouts and Girl Scouts were there, too. The Church of Jesus Christ of Latter-day Saints were there, in force. Students from Clovis High School, Clovis West, California State University, Fresno joined in on the forest plantation, as well. Work was concluded at 12:00 noon sharp.
     The result of this early morning event is the largest urban forest in the Nation. West Coast Arborists provided trees.
     The Clovis Old Town Trail and tree planting project were made possible through sale of the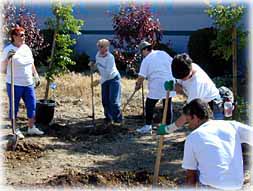 Southern Pacific tracks in the "rails to trails" project and the efforts of Community Trails, the Clovis Parks Dept. and a host of Reedley volunteers in the the massive show of civic support that made the forest trail a reality. The cities of Clovis and Fresno purchased the portion of the old Southern Pacific tracks for the community trail [$3.5 million] in 1997.