CLOVIS -- The Rotary Club of Fresno was honored by The State of California (CalTrans) for Highway Art subcategory for their joint work on a mosaic mural along Sierra Freeway 168 this week. The highway art project depict the region's unique landmarks and diverse cultural composition.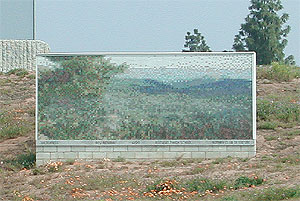 The Clovis art object, "Wilderness" is strategically placed at Sierra Freeway 168 and Shields Avenue.
Another object titled, "Fields" is featured at Highway 41 and Audubon Drive. A "The Tower Theater" memorial welcomes visitors at the Highway 99/180 interchange.
A Fresno landmark, "Sunset at the Water Tower" is set at Yosemite Freeway 41 and Jensen Avenue interchange.
In addition to beautifying the greater Clovis area's highways, the mosaics are intended to attract businesses, recreational travelers and residents to the rapidly growing San Joaquin Valley community.
Each mural measures 8 by 20 feet and consists of 25,000 tiles chosen for their vibrant colors. Young people and community members donated thousands of hours in planning and constructing the works of art, which were created through area high school art departments.
The mosaics are considered to be the only ones of their type in the nation, and won recognition locally on Media One's Cable television art program. Each work features uncommon colors and textures and showcases a city landmark. Murals were placed at four key locations.

 [Editor's Note: Click here to download your copy of The California Transportation Plan.]